April 10, 2019
Governor Ned Lamont and Department of Administrative Services (DAS) Commissioner Josh Geballe recently chose Infoshred as the site for an announcement of changes that will make it easier to do business with the State of Connecticut.  Coverage of the event included stories on WFSB-TV and WTNH-TV. Stories also appeared in the Hartford Courant,  Journal Inquirer, The Middletown Press and CTNews Junkie.
Central to the changes announced at the news conference is a bill developed by DAS, House Bill 7385. It is aimed at reducing the number of forms needed to do business with the state to one (currently seven or more are required).  The bill will result in the elimination of over 90,000 forms that are submitted to the state each year. The proposal has gained the support of the Connecticut Business and Industries Association, the state's leading business advocate.
"Infoshred has had a collaborative experience with DAS in developing and improving our service offerings to the state," Stacey Lombardo, president and founder of Infoshred, said during the news conference in the company's warehouse. "The process has allowed for open dialogue to create solutions that are mutually beneficial to the state and Infoshred. The communication we have experienced with DAS has been far superior to the majority of our large profile customers, both public and private. The new initiatives being undertaken by DAS to make the state more business friendly, including House Bill 7385, are welcome enhancements for anyone working with the state."
In presenting the changes Governor Lamont said: "With fresh eyes, an aggressive approach, and collaboration, we can modernize state government the way it should be. It is too difficult to navigate through our agencies – it slows down our employees and our businesses. Commissioner Geballe has hit the ground running and in just over two months already identified ways to eliminate burdensome red tape. We'll continue to make doing business easier in Connecticut. State government needs to embrace change and be willing to take responsible risks to move into the future. The status quo is not good enough."
Commissioner Geballe added: "As a former CEO of a technology company in Connecticut, I know this is a fantastic state to build a business but that the state can be a better partner in helping Connecticut businesses grow.  Citizens and businesses in this state are our customers, and we can help them by simplifying processes and eliminating wasteful duplication of data collection."
Joining the Governor and Commissioner on a tour of the facility were Robert Maynard, First Selectman Town of East Windsor and Infoshred employees, Kim Bailey, Jodi Heroux, Michelle Marquez and Kristyn Osborn.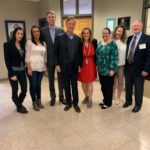 "We were honored that Governor Lamont and Commissioner Geballe chose Infoshred for this announcement.  It is an acknowledgement of their commitment to help businesses like ours continue to do business with the State," said Lombardo.