Shredding FAQ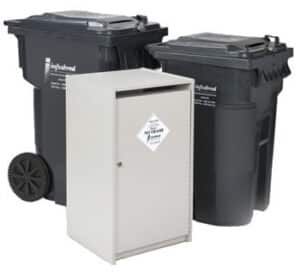 Q: Why regularly destroy your business information?
A: Click HERE
Q: Do you issue a Certificate of Destruction?
A: YES – Click HERE for a sample…
Q: What can I put in my shred bin?
A: Click HERE
Q: Do I need to remove paper from 3 Ring Binders?
A: It is recommended that confidential material be removed from 3 ring binders.
Q: Does Infoshred charge a fuel surcharge?
A: NO
Q: Can I keep my boxes to reuse?
A: Yes, let us know when you schedule the pick up that you want to keep the boxes.
Q: We have files stored but need to go through the file cabinets and separate what needs to be shredded. What can we do?
A: Infoshred will drop off security containers on wheels that you can purge your material into.
Q: What box sizes do I have? How should I refer to my box sizes?
A: Click HERE for PDF answer.
Q: What do I do if my business is moving?
A: Click HERE