October 18, 2021
Should you shred your own documents or hire the Professionals?  You may think you are saving money, but let's review the Pro's and Con's….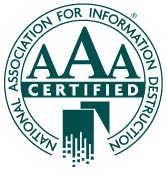 PRO's:
When using a professional, AAA NAID certified Shredding company like INFOSHRED, you can be sure ALL your documents have been properly destroyed in a timely manner.
You will receive a Certificate of Destruction which certifies you have met your destruction compliance requirements required by laws such as HIPAA, FACTA or Sarbanes-Oxley to name a few.
You aren't wasting valuable employee time shredding documents.  Keep your employees focused on their billable tasks and INFOSHRED can handle the shredding.
CON's:
If your own employees are shredding your confidential documents, you take a risk that the documents may be reassembled from the strips in the bin.  With Infoshred, your shredded material is mixed with 1000's of other accounts we service, making it impossible to retrieve any information once we shred your documents.
The hourly cost of your employees may be more than the cost of our service.  Consider the loss of their time that would be spent tackling other, money-making projects in your office.  Shredding can take an employee away from their job for hours.  Even spreading the time shredding among various employees, those minutes will add up fast and cost you money.
You may be compromising your confidential information by letting various employees shred your documents:  Is the employee shredding HR documents, Contracts etc. qualified to see that level of confidential information?
Are you sure your employees are destroying confidential material according to the scheduled destruction dates and in compliance with regulatory schedules? Or are they busy attending to more pressing work and leaving your documents unsecured or mis-placed?
Even if the documents don't fall under the Federal or State Regulations, they must be stored securely.  Improper storage and destruction can lead to data breaches and erode confidence in your company.  An inadvertent data breech may cost you more than clients, it may cost you Federal and State fines and the impact of negative publicity adds up fast.
Protect yourself by hiring INFOSHRED for regular shredding service:  We have various options to suit your needs FOR A LOW MONTHLY RATE.  Call Nancy at 860-627-5800 x136